Profile

Can I Really Lose Control?
I Think It'd Be Nice...
This journal contains content only suitable for those over the age of 18.
Free Account
Created on 2012-04-15 19:20:00 (#1600336), last updated 2012-05-22 (278 weeks ago)
19 comments received, 0 comments posted
53 Journal Entries, 111 Tags, 0 Memories, 15 Icons

About

Mini Bio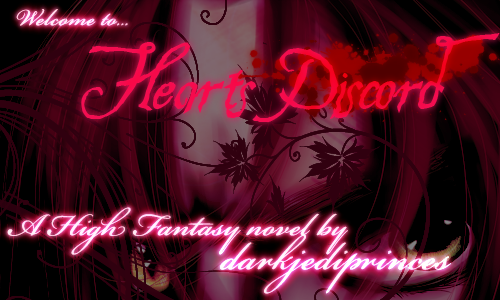 Welcome to "Heart's Discord"! This is an original High Fantasy story by

darkjediprincess
, started in November 2006 after a trip to the Texas Renaissance Festival made DJP's Muse of Originals a little overactive.
This journal is owned and maintained by

darkjediprincess
. It was created after DJP deemed her FanFic community

millennia_fanworks
an inappropriate place for her original stories, and moved them here (and to

indagatio_eterna
, where her other main stories "Legacy", "Auriga-Capella", "Running From Time", "The Devil You Know", "Children of the Gods", and "Constant Autumn" are kept).
[x]
Introduction/General Info
[x]
Extended Backstory/World History
[x]
Extended Character Bios
[x]
The Nations/Map
[x]
Chapter Index - Book I
[x]
Artwork up 'til 13 July 2007
[x] Soundtrack
Backstory
Rori Aevan is a half-demon mercenary, wandering around the expansive lands of Antis-Ethium with a rag-tag group of followers: Enin Paeldor, a cleric of the god of Protection; Aiden Mori, sorcerer; and Caiman Lyason, thief. The peace between the Nations of Antis-Ethium, which has been kept for nearly 300 years, is about to break, and rori and her wayward group of traveling companions seem to be the only ones able to stop it.
Well, so life goes.
There's just one setback: Lorenna, Rori's demon half. She's constantly fighting for control of Rori's body, and fighting only makes her stronger. If Lorenna wins out, Antis-Ethium is most likely doomed.
But only
most
likely.
Characters
[x]
Rori Aevan
– A half-Demon mercenary from Aelgate who faces a constant inward struggle with her other personality
[x]
Lorenna
– Rori's demonic half, who is constantly fighting for control of Rori's body
[x]
Enin Paeldor
- A cleric of the god of War, Justice, and Strength, and an old friend of Rori's
[x]
Aiden Mori
– A sorcerer from Atlunova, Virilana's northeastern neighbour
[x]
Caiman Lyason
– A slimy thief/rogue from the Western Desert
[x] All artwork is by

darkjediprincess
.
[x] Brushes:
Paint Splatter Drops set 1
by ~
ardcor
(Logo Blood Spatter)
[x] Journal Header Texture:
Big Texture 30
by

wonderland__
[x] Profile Header Texture:
800x600 Texture
by ~
tearfulcreations
[x] Fonts:
Hesperides Demo
(Logo),
FG Christine
(Journal Header URL), Vladimir Script (Profile headers), Lucida Sans (main journal text), Garamond (HTML Headers)
[x] Icons by

albur_lily
and

darkjediprincess
[x] Journal text from the song "Lose Control" by Evanescence.
All work in this journal is © 2006–12 Katherine O'Brian/

darkjediprincess. Do not copy, edit, reproduce, or repost without explicit, written permission!

Connect
air
,
art
,
artwork
,
beware the nice ones
, beware the silly ones,
clerics
,
concrit
,
constructive criticism
,
creative writing
,
demonic possession
,
demons
,
earth
,
f/f
,
fantasy
,
femmeslash
,
fiction
,
fighting
,
fire
,
half-demons
,
heroic fantasy
,
high fantasy
,
justice
,
katanas
,
magic
,
mercenaries
,
o.c. slash
,
original character slash
,
original characters
,
original f/f
,
original femmeslash
,
original femslash
,
original fiction
,
original girlslash
,
original m/m
,
original slash
,
original writing
,
original yaoi
,
original yuri
,
originals
,
photoshop
,
polytheism
,
prose
,
rogues
,
sorcerers
,
sorcery
,
strength
,
the four elements
,
thieves
,
wacom
,
water
,
world domination
,
writers
,
writing
,
writing prompts
heartsdiscord

@gmail.com

People
[View Entries]

Communities
[View entries]

Member Of (11):
feedback_studios
,
fiction
,
inkstains
,
millennia_fanworks
,
original_slash
,
originalfic100
,
originalfiction
,
thewritersnook
,
write_good
,
writers
,
writerslounge

Subscriptions (15):
dbfssaga
,
dresdeneffect
,
dw_maintenance
,
dw_news
,
feedback_studios
,
fiction
,
inkstains
,
millennia_fanworks
,
original_slash
,
originalfic100
,
originalfiction
,
thewritersnook
,
write_good
,
writers
,
writerslounge

Administrator Of (0)

Feeds
[View Entries]

Subscriptions (0)

Linking
To link to this user, copy this code:
On Dreamwidth:
Elsewhere: